When you change hotel wallcoverings, you completely alter the look of a room; wallcoverings can take your interiors from dark to light, retro to modern, or monotone to colorful.
But when wallcoverings start to show their age, regardless of what pattern or color they are, they'll make your North Carolina hotel rooms feel drab and neglected. And no guest wants to sleep in a room like that!
So how do you know when it's time to replace your North Carolina hotel wallcoverings? Here are a few signs to look for:
The Color on Your Hotel Wallcoverings is Fading
Are the bright, lovely teal-colored flowers on your commercial wallcoverings now barely even sky blue? Is the striking red fading to a modest pink? Have your sunny yellow hotel wallcoverings become an off-white dinge color? Color that has faded significantly is a clear indication that your hotel wallcoverings need to be upgraded.
It doesn't matter how pretty the commercial wallcoverings were when they were first installed. Once the color has become washed-out, there's really no way to restore them to their former glory; they simply need to be replaced.
If this is the case for your North Carolina Hotel then it's time for you to get a hotel remodeling evaluation and recommendation. A hotel renovation company like MEP Painting & Wallcoverings not only can provide recommendations, but they even offer budget-planning services to assist with project planning.
The Edges of Your Hotel Wallcoverings are Peeling
The adhesive that makes commercial wallcoverings stick is pretty strong stuff. The companies who design it know that it needs to hold up under a variety of conditions for an extended period of time.
But if your hotel wallcoverings have been on for quite a few years, you might start seeing edges that are peeling up a bit, especially if your establishment is located in a humid environment like North Carolina.
Wallcoverings that are peeling up at the edges will make the interior look shabby and run-down, leaving visitors with a negative impression of your hotel. As soon as you notice the corners of your hotel wallcoverings curling up, you should take action to remedy the problem.
It is possible to have commercial wallcoverings re-adhered without making a complete replacement. Just keep in mind that this is a temporary fix and you will need to have them fully redone eventually.
There Are Scratches and Tears in Your Hotel Wallcoverings
Another issue that arises as hotel wallcoverings age is tears. Hotels see a lot of activity so it's easy to understand how tears can occur. Maybe someone moved a piece of furniture that hit the wall and it caused a deep scratch or tear in the commercial wallcovering. Or a mischievous child started playing with a peeled-up corner and ended up ripping a bit off. Customers brush up against walls; suitcases run into walls or even scrape along the hallway walls.
Even though some are unintentional, incidents like these are sure to happen over time. Unfortunately, tears are much harder to repair than peeling edges. Sometimes even large gouges or holes in the walls occur. At that point you need the expertise of MEP drywall contractors to repair and/or replace the drywall prior to applying new wallcoverings.
Some scratches and tears can be overlooked, but once they start to accumulate the issue needs to be addressed by upgrading your hotel wallcoverings. If you don't plan for a hotel renovation to include repairs and replacement of wallcoverings, your hotel can begin looking dingy quite quickly.
The Style of Your Hotel Wallcoverings is Outdated
The overall condition of your hotel wallcoverings might be fine, but how do they look? Do they have an olive-green, orange, and brown striped pattern on them that's so 70's? Are they a throwback to the 80s with their bright colors and geometric shapes?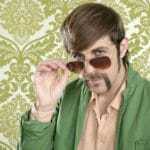 If guests can date your hotel by looking at the wallcoverings, then it's probably time for an update. There might be some people who appreciate the retro look, but most customers are looking to stay in a bright, clean, and modern-looking hotel.
A good hotel renovation will include a well thought out plan of wallcoverings. Style considerations can be studied by visiting online wallcoverings stores to see "what is in and what is out."
Call for a Consultation
If you're ready to make a change to your North Carolina hotel wallcoverings, give MEP Painting & Wallcoverings, Inc. a call. We have years of experience helping reputable hotel chains upgrade their commercial wallcoverings. We can also help you with your budget planning for this project. You can reach us at 336-215-0284.