When planning your new South Carolina senior living construction project, you have more to think about than just building the basic structure; you also need to consider what interior design elements will be most useful and appealing to prospective residents. Of course everyone knows that design is an important consideration for every construction project, but it's easy to overlook certain aspects in retirement homes that can end up having a negative impact on your business.
When older adults and their families start shopping around for a senior living facilities, they're looking for a place that's both functional, and comfortable, and an acceptable substitute for their home. Your goal should be to create an atmosphere you would be proud to call home. A high quality Senior Living construction company will help achieve this goal, with recommendations and top quality professionals. Whether a renovation or new construction you should consider implementing the following 4 design features into your retirement home construction:
Lighting That's Bright but Non-Clinical
The interior lighting of retirement homes needs to be bright enough to allow residents to see clearly and navigate around safely, but try to avoid the overuse of fluorescent bulbs. There may be places where you need that type of lighting but Notice that fluorescent lighting is rarely used in a personal residence. That's because it is often associated with cold, sterile, and clinical environments.
Retirement home residents don't want to live in a place that feels like a drab, clinical institution. They want to spend their final years in a place that makes them feel at home.
The inclusion of lighting that's warm and inviting will help residents be more relaxed and comfortable – just like home. And to make lighting more functional, you should also make sure that light switches are placed at a level where wheelchair-bound residents are able to reach.
Beautiful and Durable Commercial Floorcoverings
Installing plain tile floors in your senior living construction project probably isn't the best choice. This type of commercial floorcovering will likely conjure up images of being in a hospital or other institutional setting. To make the retirement home construction seem more intimate and homey to residents, choose a commercial floorcovering like carpeting or laminate.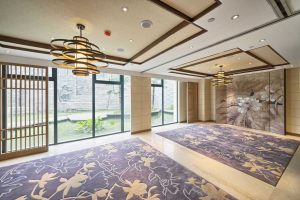 Carpeting is especially good for senior living constructions because it provides a bit of cushioning in case a resident falls. Carpet also improves the acoustics in a retirement home construction. For residents who are affected by loud noises it helps to keep noise down in common areas. And while carpet often comes in rolls, a rugged commercial grade carpet can be installed in squares. This allows for easy removal and replacement of squares that become stained or worn out without replacing the entire floor covering.
Whatever commercial floorcoverings you choose, make sure that they're durable. You'll have a lot of residents trekking through hallways, the dining room, community areas, etc., so install high-quality commercial floorcoverings that'll hold up over time.
Colorful Commercial Wallcoverings
It might be easier to just pick standard off-white or beige commercial wallcoverings for the interior of your senior living construction, but that's not in the residents' best interest. Including more colorful commercial wallcoverings will not only make residents feel more at home, it also provides a few surprising benefits.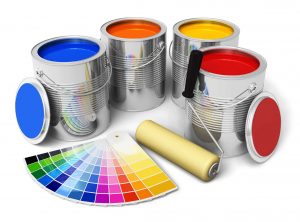 For example, did you know that the color of the commercial wallcoverings you choose can have psychological and physiological effects on residents? It's true – they can! It's called Color Psychology and it can have an impact on your emotions. Studies have shown that blue or grey colored commercial wallcoverings can reduce anxiety and create a calming effect. Commercial wallcoverings in warm colors, such as orange and red, can help stimulate the occupants' appetites. This is especially useful in memory care units where residents often suffer from a loss of appetite.
Choosing colors and wall coverings for your Senior Living construction design should not be taken lightly. Do your research and get professional contractors to help create the best atmosphere for your residents.
Furniture That's Comfortable, Functional, and Long-Lasting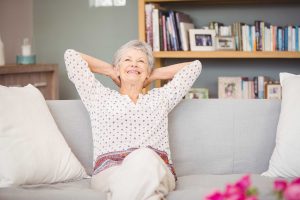 When selecting furniture for your retirement home construction and design, you need to find pieces that meet three criteria: they're comfortable, functional, and will last a long time. These might seem like easy conditions to meet, but it's harder than you think.
A comfortable sofa, to many people, is one they can sink into. But for older adults, getting up from such a sofa could prove to be difficult. Chairs and sofas with some cushioning is fine, as that makes the furniture more comfortable, but make sure the furniture is designed so residents can stand up easily.
You should also make sure that the furniture you choose is strong and a solidly built. The best thing to do is visit with a commercial furniture company, like River's Edge, and get their expert recommendations. They are knowledgeable about materials, construction, what would be best for the elderly, and what investment would make the most sense in the long run. And they are designers too, so they can help with color and fabric choices. If you initially purchase cheap furniture, you could end up buying replacements sooner rather than later. You might pay a little bit more upfront for well-constructed, durable furniture but it'll be worth it in the long-run.
When it Comes to Senior Living Construction, Interior Design Matters
The way you decide to decorate the interior of your senior living facilities will have a significant impact on the way it's perceived.
When potential residents and their families look over their available options, they won't be impressed by a retirement home construction that appears to be bleak and uninviting. By selecting the right lighting, floorcoverings, wallcoverings, and furniture, you can turn your senior living construction project into a cozy and welcoming residence – just like home.