When it comes time to to look for commercial construction companies for your new commercial construction or remodeling project, it's important to find someone you can depend on. There are numerous commercial contractors in Virginia to choose from so how can you be sure you're hiring the right one?
There are several tell-tale signs that you can look out for when evaluating commercial construction companies for the job. If you're considering hiring commercial construction contractors and need help finding a high-caliber company, use the following four signs to guide you through the decision-making process.   
Great Commercial Construction Companies are Responsive
When you first contact the company about your commercial renovation or construction project, were they quick to answer the call? If you had to leave a message, how long should it take for commercial general contractors to get back to you?
If you found it difficult to make initial contact or the contractor took a long time to return your call, you might want to look elsewhere for other commercial construction companies. A delayed response upfront is an indication that communication will be poor throughout the project and you might not be able to depend on this particular contractor.  
You need a project partner who's as enthusiastic about your commercial remodeling or construction project as you are. Don't settle for someone who can barely find the time to generate a lukewarm response. Communication is key when undertaking a commercial renovation or new construction project, so it's vital to find commercial general contractors who responds quickly and are easy to reach.
The Best Commercial Construction Companies have a Great Reputation
These days, there are numerous apps and websites where people can register compliments or complaints about companies that they work with. It would be wise to take a bit of time and investigate any commercial construction companies that you might want to hire.
Commercial general contractors don't tend to get the same number of online reviews as residential contractors do, but there should still be evidence of the company's reputation online. You should at least be able to look up commercial contractors on the Better Business Bureau website. Check to see that they're BBB accredited, what their BBB rating is, and if a significant number of complaints have been registered on the site.
Your Commercial Construction Contractors Have the Necessary Credentials
Before hiring commercial construction companies, make sure that they have the proper credentials. Commercial construction contractors need to be licensed to work in the state where your commercial renovation or construction project will take place.
Ask for proof of licensure from commercial construction companies you're interested in hiring. As a back-up, check with the state agency or registrar in charge of general contractors just to make sure that the license is valid and up-to-date.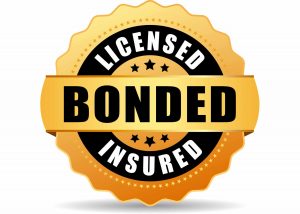 You should also ask commercial construction companies if they are fully bonded and insured. "Bonded" means there's liability protection in place for clients in case commercial construction contractors fail to finish the job or don't complete it correctly.
Liability and workers' comp insurance provide coverage for employees of the contractor's company; if someone is injured during the commercial remodeling-new construction project, you won't be held liable.
Commercial General Contractors Can Provide References
Any contractor that you consider hiring for your commercial renovation or new construction should be able to provide you with references from former clients.
Ideally, commercial construction companies will give you a list of client names along with their contact information. If commercial general contractors are reluctant to disclose client information, this should be seen as a huge red flag. Reputable Virginia commercial construction companies will be more than willing to provide references.  
Once the general contractor has presented you with their references, don't just accept the list and move on; be sure to contact several of the references and ask pointed questions such as:
Was the commercial remodeling-new construction project completed on time?

Did the commercial general contractors communicate clearly for the duration of the project?

Were the workers personally supervised by the general contractor or their project manager that you hired?

Was the commercial renovation-new construction job completed within budget?

Did you experience any issues with this Virginia commercial construction company?

Would you recommend this commercial contractor to others?
"I have worked with MEP for over 10 years on hundreds of projects ranging from painting & wall covering renovations to flooring and construction projects. MEP crews have always maintained a professional atmosphere and their work is always of the utmost quality. They would be a benefit to any project manager or superintendent in the area of remodeling and General Construction. Respectfully,"

– Rick J Paquette, Asset Manager, Brookdale Senior Living Inc
Talking with former clients will help give you a clear idea of what to expect from the commercial construction company that you're considering. If you don't like what former clients have to say, then move on to another, more reputable .company
Be Thorough when looking for Commercial Construction Companies for Your Project
Finding good commercial construction companies for your remodeling or new construction project can seem like a difficult task. There are so many commercial contractors advertising their services that it can be challenging to find one that you can count on.
If you're thorough in your search and take time to evaluate potential candidates according to the four signs listed above, you'll be able to find what you're looking for: a well-qualified and reputable Virginia commercial construction company to complete your project and do it right.