In October of 2015, the Aloft brand of hotels proudly opened their new facility in Raleigh, located across from the North Carolina State University memorial bell tower. This was the fifth new hotel construction the brand completed in North Carolina, with several more already in the works. MEP Painting and Wallcoverings, Inc. was honored to participate in Aloft's new hotel construction project in Raleigh by providing our expert commercial wallcovering and floor covering services, framing, drywall, and other general commercial contractor services.
Aloft's Ideals
The Aloft chain of hotels may be relatively new to the market, but they're certainly making an impact. The Aloft brand was initially conceived by Starwood Hotels in 2005; the first Aloft hotel was completed in 2008 near the Trudeau International Airport in Montreal. Since then, Aloft has become one of the fastest growing hotel chains in North America.
One reason for the brand's rapid expansion could be their focus on providing accommodation that's exciting, modern, and stylish. Aloft isn't your everyday hotel; don't expect to see drab colors and cookie-cutter décor. When you step into any Aloft location, you're transported to a place that resounds with energy, individuality, and vibrancy.
Whenever you travel, you surrender yourself to the adventure and open yourself up to new experiences. The contemporary décor is meant to reflect patrons' sense of adventure and fun. When it comes to style, Aloft Hotels have easily beat the competition.
In addition to style, Aloft hotels also offer substance. They're much more than just a place to sleep. To many of the people who live near Aloft's new hotel construction, the brand offers a chance at change and new opportunity. Aloft Hotels purposefully seek to build in areas that are in need of revitalization.
This is also a brand that believes in connection, which is why they provide patrons with the perfect place to mingle in their w xyz bars. Instead of striding straight through the lobby and up to your room, guests have a dynamic and inviting place to relax and socialize. You'll even find talented local performers featured in the bar on a regular basis.
Aloft also endeavors to reduce their environmental impact when planning new hotel constructions. They firmly believe in conserving natural resources and engaging in sustainable development. The Aloft chain of hotels strives to be the green alternative to more traditional hotel brands.
"It has been our pleasure to work with MEP as they are always willing to perform above our expectations to reach and exceed our goals." – S. Johnson
The MEP & Aloft Connection: Providing Our New Hotel Construction North Carolina Services
At MEP, we have worked with numerous brands that are recognized not just throughout the country, but worldwide as well. Due to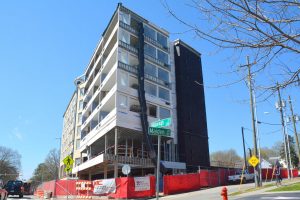 their imaginative vision and drive for innovation, we were especially pleased to provide our services to Aloft hotels during their new hotel construction in Raleigh. Our expert contractors were able to capture on video the quality work and superb results..
Our commercial contractors were brought into Aloft's new hotel construction in Raleigh through Matthews Construction, the company in charge of the project. We were happy to provide our new hotel construction services, which included:
Commercial painting services

Metal framing

Drywall installation

…and more
We thoroughly enjoyed partnering to complete this unique hotel construction project within budget and in a timely manner.
Our commercial contractors have been assisting construction companies on their new hotel constructions and hotel renovations for more than 15 years. If your company is looking for knowledgeable and well-qualified commercial contractors to work on a new hotel construction or hotel remodeling project, just give us a call at 336-215-0284.