Every business owner knows that durable flooring is an absolute must; whether you're renovating office space, undergoing a commercial property refurbishment, or planning a few hotel renovation projects, you're going to need flooring that will withstand a steady stream of traffic.
So what type of flooring should you choose? Here are some of the best options we've found for high-traffic areas:
Hardwood for Commercial Property Refurbishment
When it comes to durability and strength, it's hard to beat hardwood. Hardwood flooring is a great choice for commercial property refurbishment because it can endure a lot of wear and tear while still looking beautiful.
While a popular choice for residential floors, business owners, despite its durability, often underutilized hardwood flooring. That's because hardwood has a reputation for being difficult to maintain. But with planning and a little regular attention, the durability may out weight maintenance concerns.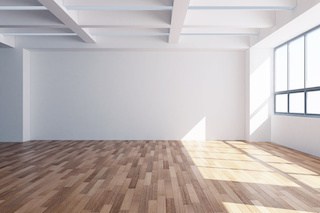 You also have to be mindful of where and how the hardwood flooring will be used; if it's placed in a location that's too humid, hardwood can buckle or develop gaps between boards. Hardwood can also get nicks and gouges fairly easily if heavy furniture is used on it.
Vinyl flooring options
If you like the look of hardwood, but want an easy maintenance schedule after you're done renovating office space, vinyl flooring would be a good choice for you. Invented in the 1920s, vinyl floors originally offered superior durability, but little style.
Thankfully, vinyl flooring has come a long way since then. You can now find many stylish vinyl flooring options in a variety of colors, textures, and designs – including vinyl flooring that looks like hardwood!
Vinyl flooring doesn't require nearly as much maintenance as hardwoods do, but you still need to make sure the floor is swept regularly to prevent abrasions caused by dirt and other debris.
Keep in mind that with vinyl flooring, you often get what you pay for. If you decide to purchase cheap vinyl flooring for your commercial property refurbishment, you'll have to replace it sooner than you would a more expensive option. If you want your vinyl flooring to last, you will need to pay a bit more for quality.
Concrete options for Commercial Property Refurbishment
You might think of concrete as this dull, grey, ugly flooring with absolutely zero style whatsoever, but you'd be wrong. As with vinyl, concrete has seen a lot of advances in recent years, especially where aesthetics are concerned.
In fact, you can now have concrete poured in various shapes to add a bit of flair to your flooring. You can even have the color of concrete customized while renovating office space, matching it to your brand colors or decor. There are many options including staining, stamping, and epoxy coatings.
And, of course, concrete is extremely durable. You can further enhance its durability by adding a finish to your concrete floor. High-performance finishes also mean that your floor will be less slippery, more resistant to stains, and easier to maintain.
Carpet floor coverings
Probably the most surprising entry on this list, carpet is much more resilient than you might think. Thanks to recent advancements in commercial carpeting, you can now find many sturdy carpeting options. This is especially helpful to those who require high-traffic flooring settings, such as nursing homes and hotels.
One of the biggest complaints business owners have about carpeting is the difficulty in repairing it. Imagine that you have carpeting installed while renovating office space but it gets a large stain on it just a month later. If the stain won't come out with cleaning, you'll be stuck with a stained carpet until your next commercial property refurbishment.
This issue has been resolved with the use of caret tiles. And no, carpet tiles are not the same as the samples provided to you by a flooring merchant. These tiles are customizable, simple to install, long lasting, and easy to repair. If your carpet becomes damaged or stained, all you need to do is replace the affected tile instead of cutting a portion and patching it, as you would with traditional roll carpeting.
What's the Best Flooring Option for Your Commercial Property Refurbishment?
Of course, the best flooring option depends a lot upon the type of business and where the flooring will be used. For example, if you're buying floor coverings for several hotel renovation projects, you would probably be more interested in carpeting for guest rooms and vinyl flooring for common areas.
And while hardwood would be an excellent choice for a museum, renovating office space in a bank might require flooring that's stronger and easier to maintain, like concrete. Evaluate how your floors will be used and talk to a reputable flooring dealer before determining the best high-traffic flooring for your commercial property refurbishment.
Who Should You Call for Your Next Commercial Property Refurbishment?
MEP Painting & Wallcoverings, Inc. are contractors that provide virtually every kind of service you will ever need. They are way more than just painters. Their general contractor experience means they can handle all your construction and renovation needs. For the professionals at commercial remodeling call Mr. Mefi Franco, MEP President, at 336-215-0284 or complete the contact us form.