Have you been thinking about upgrading your interiors but don't want to pay for professional wallpaper installation? Professional wallpaper installation may seem like an unnecessary expenditure, but there are many reasons why it's actually a good investment. Here are just a few:
Professional Wallpaper Installation Will Save You Time
When you hire a professional to install new wallpaper for you, you're paying for their experience. Because they have provided this type of service numerous times before, a professional will be able to complete the wallpapering project much faster than you or any other novice would. Professionals will also guide you in the types of wallpaper you select.
Professional Installers Are More Knowledgeable
You should also consider the fact that the job may require more than just installing wallpaper. Depending on the condition of your walls and the types of wall covering you now have, you also might need to do one or more of the following:
remove old wallpaper
degloss any enamel paint
clean the walls
fill in holes
repair cracks
remove any texturing
prime new drywall
Do you or the crew you would hire know how to do all that? If they don't have much experience with these tasks, it can take a lot of time to learn. And if your crew doesn't know what they are doing the project can become a real mess in a hurry.
A professional installer will also know how to work with different types of wall covering. Whether you want vinyl coated paper, embossed wallpaper, or natural textile wallcoverings, you can count on a professional to have the know-how to get the job done right.
Investing in Professional Wallpaper Installation Saves Money
Installing wallpaper correctly requires using a number of different tools – and tools cost money! You might have a few of the items you'll need lying around, like a tape measure, step stool, and bucket. But do you have every tool necessary to get the job done right?
Don't forget that different types of wall covering can require different tools. How much money will you need to invest to get the equipment you need? And then ask yourself if you have the skills to be able to use those tools correctly.
When you invest in professional wallpaper installation, they provide their own high-quality tools and the trade skills to use them in the most efficient way. That means you no longer have to worry about making a big expenditure on wallpapering tools you'll rarely use.
Professional Wallpaper Installation = Less Frustration
Let's face it – hanging wallpaper isn't the most enjoyable activity, especially if you don't have a lot of experience. When you're first learning how to do something, it can take a lot of trial and error before you get things right. Making mistakes can lead to a lot of frustration. Wouldn't it be a lot easier to bypass the frustration and hire a professional? And the types of wallpaper you choose won't matter to the professional, so even less frustration for you.
You'll Get Better Quality Work with Professional Wallpaper Installation
About those mistakes we were talking about…how would you like to have them displayed on your walls for years to come? If you do the work yourself or hire an inexperienced team, that's what you'll end up with – sub-par work. By hiring trained professionals to install your wallpaper, the job will be completed to very high standards. And you'll end up with walls you can be proud of.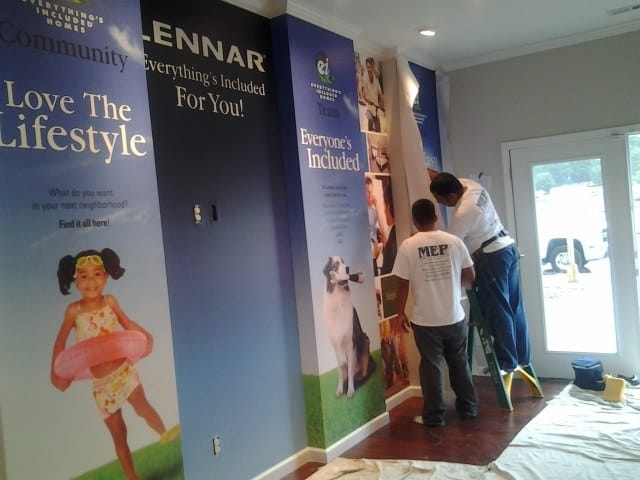 You Don't Have to Clean Up Afterwards
The high-quality work doesn't stop when the wallpapering is done, at least not with professional wallpaper installation. Professional wall covering contractors take great pride in their work and strive to exceed their clients' expectations. That means when they're finished with the job, they don't just grab their stuff and go home; they will thoroughly clean the area, picking up and disposing of any bits of wallpaper or other trash that they find.
For the Best Results, Hire a Professional
If it's quality you're looking for, then professional wallpaper installation is the way to go. Doing it yourself or hiring a novice crew with little experience will only lead to lost time, lost money, and lost patience. MEP professional wall covering contractors have all the knowledge, tools, and expertise necessary to provide you with the superior results you're after.
For professional wallpaper installation for your commercial projects contact MEP by completing the contact form or calling 336-215-0284.