The apartment building construction process is a complicated and time-consuming thing that requires a lot of preparation. Even if you have prior experience with construction projects, apartment building construction isn't the type of project you should enter into lightly.
Before you decide that you want to invest in building apartments, you need to make sure that you have a thorough understanding of everything the process involves. The more information you have, the more smoothly your project will progress.
Here are a few things you should know about the apartment building construction process before you decide to proceed with your project.
There's a Lot of Work to Do Before Building Starts
If you want your apartment construction project to be a success (and of course you do), then you'll need to invest a lot of time in planning and preparation. There are a number of factors to consider, such as:
Where You Want to Build – Before you start planning your apartment building project, you need to thoroughly investigate the area where you want to build. Ask yourself questions like:
What kind of infrastructure does the area offer?
What other buildings and businesses are nearby?
Is there a demand for apartments here?
Are there any barriers to construction?
Is there enough land available for development?
How much does land in this area sell for? Is it affordable?
Government Regulations
Just because you find an affordable piece of land, that doesn't mean you can build the apartment complex of your dreams on it. You first need to look at the zoning laws in your area.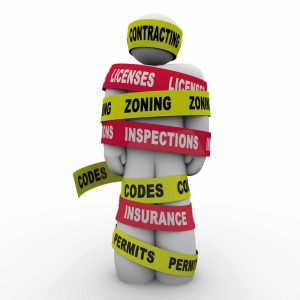 Local zoning ordinances can dictate things like the what types of building can be constructed in the area, the maximum height of your building, the number of units it can contain, how much green area you must have around your building, the number of fixtures required per floor, etc.
Before moving forward on your project, make sure you check to be sure that the plans you've conceived follow the applicable zoning laws.  MEP Painting & Wallcoverings are experienced contractors who can help you prepare with all the appropriate permits and licenses.
What Tenants Want
You also need to have a pretty good idea what renters want before you start work on your apartment building. There's really no use in constructing an apartment complex if it'll just sit empty because it doesn't meet the needs of potential tenants.
Find out what type of apartments and amenities are most likely to attract renters in your area. For example, in recent years one-bedroom apartments have been declining in popularity while two and three-bedroom apartments have been on the rise.
The Apartment Building Construction Process Could Take Longer Than Expected
Even with the most meticulous planning, your apartment building construction process could take a lot longer than you originally expected. While the average multi-family construction project takes just under 12 months to finish from permit to completion, your building could take longer because:
The size of your building is larger than average
There are more units in your complex compared to the average project
There's a labor shortage in your area
Weather in your area is harsh which affects your construction schedule
Cutting through legal and governmental red tape causes delays
Your location is hard to reach, making it more difficult to get supplies
To make your construction schedule as accurate as possible, make sure to take all these factors into consideration when planning the apartment building construction process. But don't be surprised if unexpected issues come up and cause delays – that's simply the nature of the construction business.
Lots of Variables Affect the Cost
Accurately estimating the cost of an apartment building can be difficult to do. There are a lot of variables to consider when creating an estimate, such as:
Your location
The cost of land
Architect fees
The size of your building
The quality and cost of construction materials used
Local labor rates for carpenters, electricians, plumbers, painters, etc.
The quality of the flooring, fixtures, and appliances you choose
The cost of permits, licenses, and insurance
Don't calculate a budget based on incomplete information, outdated numbers, or best-case scenarios. To make your apartment building construction process go more smoothly, you need to create a budget that's as realistic and detailed as possible.
MEP Painting & Wallcoverings, Inc. offers budgeting and project planning help for it's customers. Their experienced contractors have been helping client's prepare for their construction projects. For twenty years they have provided top quality work, on time and within budget. Their portfolio and testimonials of past projects demonstrate client satisfaction. For your construction project call the MEP at 336-215-0284 or submit the contact us form.