Property maintenance and upkeep do not come easy or cheap. It can cause indeterminable stress and eat into your revenue, and sometimes make you wish you were not a property owner.
Luckily, there are affordable and easy ways to upgrade your property and increase your rental cash flow as well.
Thinking about updating your rental property? If so, here are 9 budget-friendly tips to get you started.
Tip 1: Add a backsplash
A quaint backsplash can add value to your properties. They add flair and personality to any kitchen-remodeling project without invasive changes. Be careful when choosing a backsplash, though. Some can date your property.
You can match some colors of the countertop to make a backsplash that compliments it. Alternatively, you can choose a backsplash that is a seamless extension of the countertop.
Tip 2: Consider tile-effect paneling.
Tile paneling can quickly spruce up a dated bathroom. Tile panels are made from acrylic, are easy to fit and offer hassle-free application.
In addition, cleaning them is easy and will not go moldy or discolor like typical grout and silicone.
Tip 3: Install wood flooring
Choosing a carpet for a rental property is a rookie mistake. Aside from requiring replacement every five years or so, carpets get stains and look dingy after minimal wear. So carpet is never a good option.
Wood flooring, on the other hand, is a good option. Not only does it last longer, but it can also be ordered with a variety of finishes i.e. oiled, varnished, waxed or aged finish.
Many people think that wood flooring is expensive. On the contrary, if you do your shopping right, it's possible to get one for about the same cost as an expensive carpet.
Tip 4: Replace cabinet doors.
Most people consider replacing worn-out cabinets entirely. This is often an expensive option. If you have worn-out cabinet doors, replace them with high quality, solid wood doors. Then paint them.
Tip 5: Replace doors.
Doors tend to get damaged at rental properties. Many landlords choose to either use touch-up paint to cover the damage up or simply ignore it. New doors, however, help improve the visual appeal of your rental property. After all, they are the first thing prospective tenants will see.
Luckily, replacing doors isn't expensive. You can get a good piece at your local hardware store for about $80.
Tip 6: Upcycle the furniture.
Buying new chairs, a dining table and a new sofa can be costly. So, consider upcycling them. Buy new covers and cushions instead. You could also easily spruce up an out of date dining table with a fresh coat of paint.
Tip 7: Add a fresh coat of paint.
It is amazing what a fresh coat of paint can do! It can completely refresh your rental property's appearance. It also offers the highest ROI. You can enjoy an even higher ROI by buying paint in bulk so be sure to check into that before starting your project.
Choosing the right paint color is also important. Steer clear of bright and vibrant hues. Neutral colors work best. Examples of neutral colors include chocolate brown, black, beige, and grey.
Tip 8: Maintain the landscaping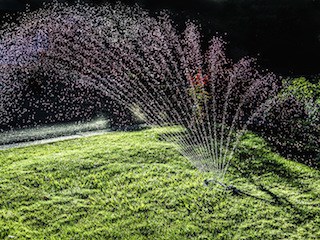 The first impression renters get out of your rental property is the landscaping. In fact, done right, landscaping can directly reduce your vacancy rate. So, if you want to attract and keep good quality tenants, take the time to landscape your rental property.
Quality landscaping can create a vibrant display of seasonally balanced planting to maintain a continuous eye stimulus year-round.
Mowing the grass and watering costs time, money and resources. Luckily, there are ways to get more while doing less. You could:
Pile on the mulch. There are several mulching options. They include rubber mulch, stone mulch, and bark mulch.
Plant appropriate ground covers. The ground covers should accomplish two things: crowd out the weeds and help cut down on lawn maintenance.
Trim up the edges. Keep the ground cover plants and the lawn in their place. Avoid erratic edging and complicated bed spacing or shapes.
Reduce the size of your lawn. This can save you several hours of work – and expense – over the entire season. You could do this by hardscaping, laying gravel or mulch over landscaping fabric, and adding a large bed filled with shrubs.
Tip 9: Pressure washing your rental property.
Pressure washing a property makes a big difference in how a home looks. People oftentimes will spend boatloads of cash on upgrades but fail to properly clean their property's exterior. You can choose to hire someone, or you could go the DIY route. If you decide to do it yourself, make sure you select the right pressure washer for the job.
There you have it! 9 upgrades to spruce up your rental property on a budget. With an attractive property, you can be sure to draw and keep good tenants in your rental home.
For more help regarding acquiring and upkeep of rental property in the Charlotte, NC area contact our friends at Dawson Property Management.  For assistance with commercial remodeling of a quote reach out to MEP Painting & Wallcoverings Inc. using our contact us form.