When it comes to retail store remodeling, it's no surprise that upgrading your space comes with a cost. While it may be true that renovating your store is going to lighten your wallet a bit, research shows that the investment is well worth it. In fact, store remodeling has been known to both bring in new customers and generate more sales from existing clientele.
With all the money that you'll be investing in your retail store remodeling, you need to make sure that you're getting the biggest bang for your buck. Here are a few tips to help you make the most of your retail store remodeling in North Carolina:
Set Yourself Apart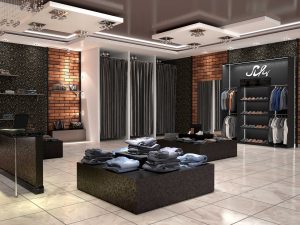 When it comes to attracting customers, sometimes the merchandise alone isn't enough to get people through the door and keep them coming back. Anybody can set up a few shelves and call themselves a retailer. But if your store appears to be exactly like a dozen others in town, why would customers choose you?
To set yourself apart from the competition, your retail space needs to show some personality. The best way to accomplish this is through branding.
During the planning stages of your retail store remodeling, you should take some time to do a little brainstorming. Write down exactly what kind of image you want to project, the type of clientele you're trying to attract, and how to create personality through your store renovation.
For example, do you sell cute and quirky clothes for stylish women in their teens and 20s? Then design a space that makes use of bright colors, bold patterns, and a variety of textures. Do you carry essential oils and other aromatherapy supplies? Then you want to create a sense of calm using a muted palate and natural materials.
Don't Overlook Your Lighting
Long florescent lighting tubes recessed into the ceiling might be the standard for many offices and warehouses, but they probably won't convey the message you're trying to send to customers. To effectively brand your retail store and create a unique sense of space, ditch the boring florescent and try something different.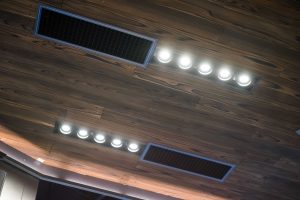 When preparing for your retail store remodeling, you should choose lighting that complements the style of the store. Do you want lighting that's brash and bright or dim and soothing? What type of fixtures best express your brand? Don't forget, the goal is to create ambience – you want customers' experience in your store to be a memorable one.
Design for Traffic Flow
One of the best upgrades you can make during your North Carolina retail store remodeling is improving the flow of foot-traffic. Have you ever visited a store that you love but the space was so crowded that you left without buying anything? Or maybe you couldn't find what you were looking for so you gave up? Sad to say those are pretty common occurrences.
If you want to keep customers in your store long enough to make a purchase, be sure that they can get around and find what they want with ease. Before starting your retail store remodeling, consider the following questions:
How do customers typically walk through my shop? Is there a pattern?
Which areas do visitors tend to avoid? Why?
Are there any places that often become too crowded? Why?
Which areas do customers spend the most time in?
Are there areas where people spend less time than others?
Once you take a look at your traffic patterns, you may find that some rearranging is in order. For instance, you may need to widen aisles to relieve congestion. Of you could try moving items away from the front door, allowing visitors space to transition into their shopping experience. There are numerous ways to adjust your floor plan during a retail store remodeling that will help redirect and improve the flow of traffic.
Upgrade Your Storefront
We've all heard the phrase "don't judge a book by its cover" but the truth is that making evaluations based on what we see comes naturally to us; humans are designed to take in and process information visually.
So while you might like to think that what's on the outside of your store doesn't matter, the truth is it does. If your storefront hasn't been painted in years, there's a cracked window, the tree out front is dead, or your sign is fading from age, guess what – people notice. And subconsciously they'll think that the way your storefront looks reflects your business.
Take an honest look at the condition of your storefront. Is there anything that's out-of-date, looking weathered, cracked, broken, peeling, or otherwise unattractive? Then spruce it up; your retail store remodeling is the perfect opportunity to make any necessary exterior upgrades.
Retail Store Remodeling Will Boost Your Bottom Line
Retail store remodeling isn't cheap but when done right, it can produce a high return on investment. To make the most of your store renovation, be sure to define your brand, analyze traffic flow, and determine which exterior upgrades need to be completed. And be sure to call MEP general contractors who have the knowledge, experience, and dependability you will need. Your customers and your bottom line will appreciate the changes! For a quote call just submit our contact form or call us directly at 336-215-0284.